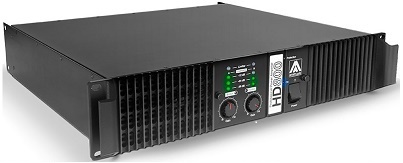 The HD800 is a Class AB amplifier with 400 + 400 W @ Stereo 4Ω power output in a 19''/2U format, ideal for use in fixed installations.
HD800 incorporates the soft-start circuit with gradual volume increase, clip limiters and special protection features such as temperature control, overcurrent, DC output and anti-short circuit on the outputs.
The whole HD series is based on our proven High Dynamic Power technology, which means higher efficiency in the ratio of power output versus energy consumed.
TECHNICAL FEATURES HD 800
Voltage Gain 32 dB
Input Sensitivity 1 V
Input Impedance 20 kΩ
Slew Rate +/-12 V/μs
Output Power (1 kHz – 0,1% THD) (1)
Stereo 8 Ω 230 + 230 W
Stereo 4 Ω 400 + 400 W
Stereo 2 Ω 550 + 550 W (2)
Bridge 8 Ω 800 W
Bridge 4 Ω 1100 W (2)
Average Current draw (3) 3 A @ 230 V AC
Frequency Response 20 Hz – 20 kHz (0/-1 dB)
Damping Factor (1 kHz @ 8 Ω) 280
Crosstalk 60 dB
S/N Ratio (A-weighted) 102 dB (A)
Mains 220 – 240 V AC- 50/60 Hz
Dimensions (HxWxD) 88 x 482 x 420 mm
Weight 14 kg